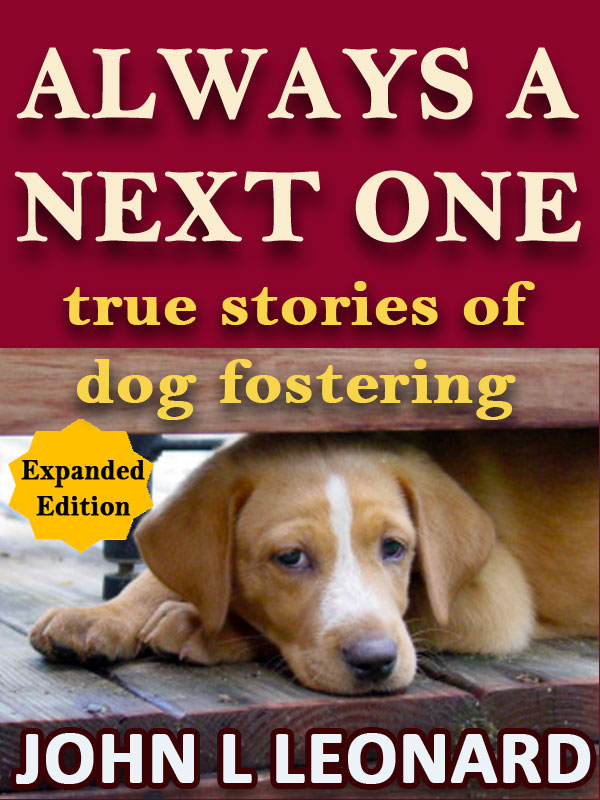 Non Fiction, Pets, True Stories
by John L. Leonard


Have you ever tried to housebreak more than one puppy at a time, or a dog that lived his whole life outdoors? Have you ever had to convince yourself there is room for just one more? Have you ever met a cat that struck fear in a pack of dogs?

I have, and experienced great joys and the occasional sorrow as a result. This expanded edition of Always a Next One is a true account of how we went from caring bystanders to front-line animal rescue volunteers. Follow our journey of rescuing misfit dogs and unwanted cats, fostering them, nurturing them, and rehabilitating them until their perfect "forever" homes come along.

Touching, amusing and life-affirming, these stories capture the highs and lows of fostering homeless animals.

This book is 41,000 words.

Buy Now!


Amazon

(Kindle)

Barnes & Noble

(Nook)

Smashwords

(Multiple eBook Formats)

Paperback

Wonderfully Written
"Always a Next One is a wonderfully written story of a family's involvement with taking in foster animals until their permanent homes are found. Readers who like Herriot's animal stories will be drawn to John Leonard's writings and will want to read more than the sample chapter of dog stories featuring Leonard's beloved Ox at the book's end.The writing in each story is consistent and not maudlin and the animals' characters come through believably. Simone the cat is a cat, not a human in disguise. This is a book that belongs on animal lovers' reading lists everywhere."
-- Alice D. for Readers Favorite
A Sense of Urgency

I have always been a "dog person" and knew I would enjoy the book, but it still surprised me how much I enjoyed it. The author wrote in a conversational manner, as if he were sitting with me and personally telling me his tales. I recommend this book with a sense of urgency...
-
- Lee Ashford for Readers Favorite
See more reviews at Amazon