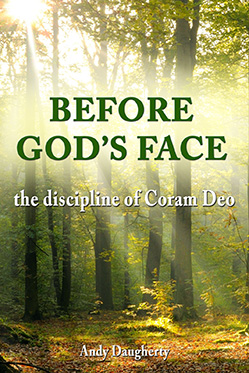 Non-Fiction/Religion/Spiritual Growth
by Andy Daugherty

"At the heart of the Christian message is God Himself waiting for His redeemed children to push in to conscious awareness of His Presence." – A.W. Tozer David was a man after God's own heart. He slew Goliath, ruled Israel and wrote such inspiring scriptures as Psalm 139. Yet David had an affair with Bathsheba, breaking multiple commandments including having Bathsheba's husband murdered. How can we guard our walk and prevent catastrophic mistakes like those that David made? How can we lead a life that bears the fruit of an effective faith? God's Word realistically portrays authentic people of faith. Their true stories are preserved for us as teachable moments. Are we listening? Before God's Face takes a practical approach drawing from Biblical stories and modern parallels to help us draw near to God as we learn the simple spiritual discipline of coram Deo – living in God's presence. Blessed are those who have learned to acclaim you, who walk in the light of your presence, Lord. (Psalm 89:15)
Buy Now!
Amazon
(Kindle)
Barnes & Noble
(Nook)
Smashwords
(Multiple eBook Formats)
Paperback



Craig T on Amazon says, "What an awesome book. We all need to let our constant awareness of His presence comfort us as well as hold us accountable. A new perspective for me for sure. Thanks Andy for such a relevant and needed book."



James Polk on Amazon says, "Very well written and a tremendous testimony for growing in your relationship with GOD."